Managed Services Summit North 2021
With the resumption of in-person events comes the opportunity to take stock in the fundamental shifts of the managed services sector we've experienced over the last two years. Areas that were once part of the scenic background, like cloud adoption, security and automation, have taken centre stage. So the purpose of the Managed Services Summit North is to assemble key managed services influencers and decision makers in the region and show how Manchester is proving to be a hub of innovation. As the market has gone through contortions and abrupt shifts throughout the pandemic, despite a very successful year getting businesses back on track, MSPs and solution providers have had to develop new skills and reflexes to not just rely on the muscle memory of 2019.
A more expansive perspective of the market to gain a front foot has also been a vital focus to promote a more robust customer engagement model. Plus, finding the right balance of hybrid working and advanced management solutions continues among MSPs as they combat a deeply concerning skills shortage made more complex with the push toward automation and customers whose requirements are becoming increasingly diverse. So, put succinctly, this event aims to reflect the drive toward efficiency and the need to adapt to chameleon-like changes.
Now in its third year, the Managed Services Summit North builds on the successes of previous years as well as its sister events in London and Amsterdam, which are firmly established as the leading managed services events for the UK and European IT channel. Featuring conference session presentations by major industry speakers, the Summit also provides opportune networking breaks for delegates to meet with potential business partners. The unique mix of high-level presentations and the ability to explore and debate the most pressing business issues with sponsors and peers across the industry makes this a must-attend event for any senior decision maker in the IT channel.
This year's event began with elevator pitches from Pax8's Michael Breeze, Datto's Greg Jones and Threatlocker's Ben Jenkins before an engaging and interactive keynote from Kate Wood. In her presentation, Wood, now a freelancer following her role as culture director for Chess, provided direct advice to achieve business growth by committing to organisational culture since it's unanimously agreed that the best way to engage with customers in 2022 will be a mix of in-person and virtual. She should know what works having helped grow Chess from 60 to 550 people and from 63rd to 1st in the Sunday Times Top 100 Companies to Work for list.
The Managed Services Summit North 2022 will address the key trends and issues impacting the managed services sector including:
How to maximise value and increase efficiencies for MSPs and their customers
Increasing knowledge of new technologies
Analysing trends in buyer behaviour
Assessing recent strides in digitalisation and business transformation
Security, compliance and zero trust architecture (ZTA)
Emerging advances in AI, automation and XaaS
The state of cloud adoption, and hybrid and edge computing
Hybrid working 2.0
Better approaches to training in light of the growing skills gap
2021 Sponsors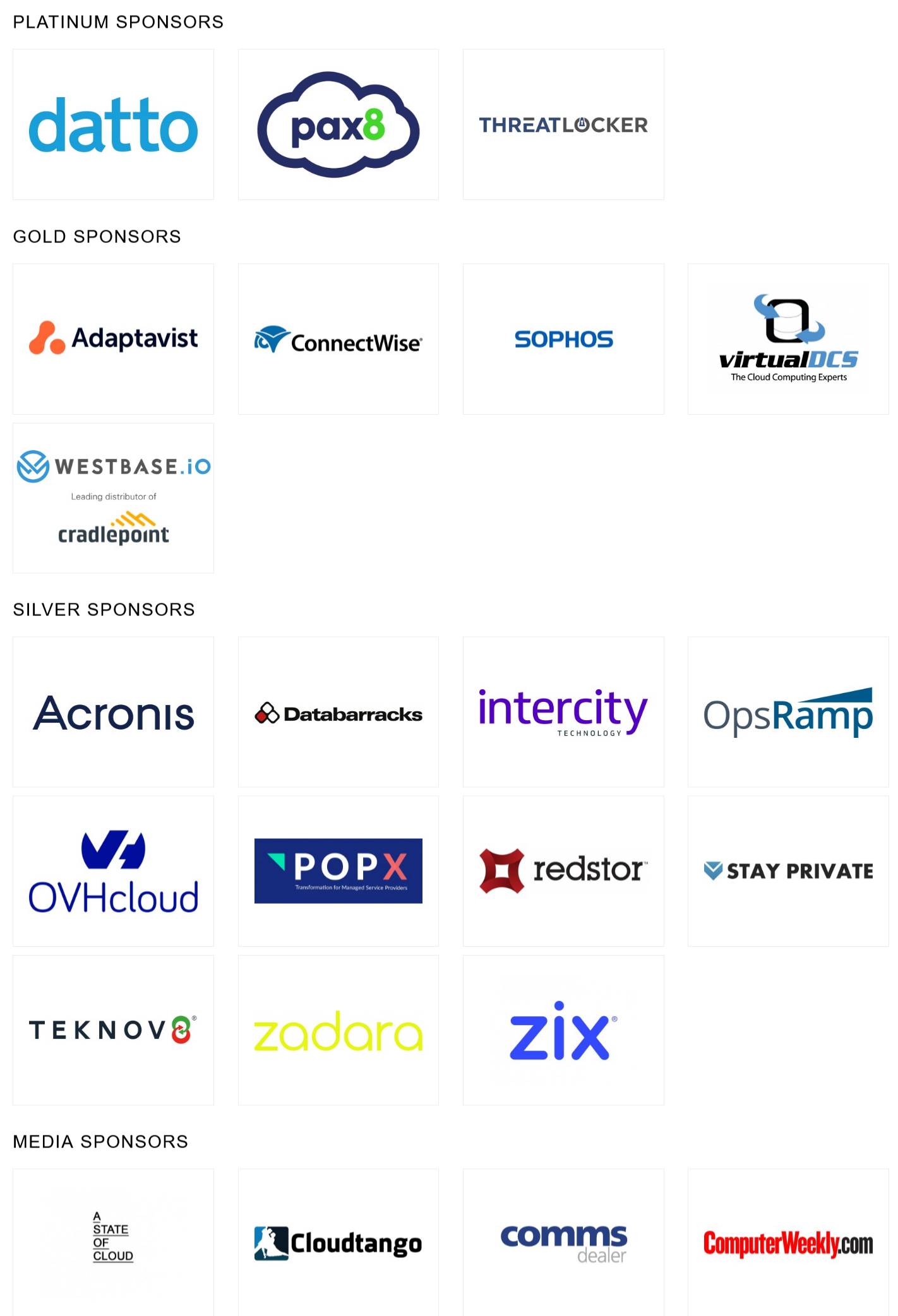 2021 Agenda
09:00
Registration Open
09:45
Welcome & Opening Remarks
10:00
Elevator Pitch PAX8, Datto, Threatlocker
10:10
Keynote: Culture for Growth In this interactive presentation Kate Wood provides straightforward advice for achieving business growth by committing to your culture. Harnessing what worked in as Culture Director for Chess, where she galvanised the 120 Million pound technology business to go from 60 to 550 people and from 63rd to 1st, in the Sunday Times Top 100 Companies to Work for list. Kate works with multiple organisations to improve their employee engagement ensuring teams feel valued and cared for whilst improving business performance. Continually driving the Women in Technology agenda, Kate heads up the UK Women in Tech Network Board and sits on the CRN Advisory Board. As well as leading talks in schools as a relatable role model, Kate runs a monthly mentor circle providing regular support to individuals and facilitating knowledge share for a range of technology providers large and small.
10:40
Break
11:10
Cyber resilience – Building TRUE business continuity protection despite adverse cyber events Greg Jones - Business Development Director, EMEA, Datto
11:25
Empowering the modern MSP to capitalize on the cloud transformation Michael Breeze - EMEA Director of Channel, Pax8
11:40
Moving Beyond Threat Detection - A Look at The Future of Cybersecurity with Zero Trust Danny Jenkins - CEO, Threatlocker
11:55
Speakers Panel Debate: Greg Jones – Datto, Michael Breeze – PAX8, Danny Jenkins – Threatlocker
12:10
Lunch
13:10
Keynote: The 3 Pillars to MSP Leadership Success – Ian Luckett, IT & MSP Business Growth Expert - IT Experts Running a Managed Services Business is one thing, but Leading and efficient, profitable and enjoyable IT Business it is a completely different story. Ian has over 20 years' experience in building high-performing and aligned Leadership teams and in this Keynote, he will be sharing with you the 3 Key Pillars to Leadership Success in your business. As always Ian's sessions are be packed with tips, tricks and strategies for you to take away with, so don't miss this one.
13:35
How to Keep Up with the Best In Class, Raymond Parkinson, ConnectWise
13:50
Listen, adapt and thrive
Trefor James - Adaptavist
14:05
Building a Better Mousetrap With Sophos Managed Threat Response (MTR)
Kyle Torres - Sophos
14:20
Veeam Cloud Service Providers: Partnering for success
Richard May - virtualDCS
14:35
Westbase – Why choose wireless WAN?
Roger Jones, Cradlepoint
14:50
Speaker Panel Debate:
Raymond Parkinson – ConnectWise, Trefor James – Adaptavist, Kyle Torres – Sophos, Richard May – virtualDCS, TBC – Westbase
15:05
UK MSP: "The Big Debate" Panel
Is the MSP model sustainable? What about vendors going direct? Should we be building or buying-in service platforms? Can automation make up for the skills shortage? Should we be preparing for the next pandemic? These and other questions are up for discussion in a candid, no holds barred session that encourages delegates to participate alongside a panel of four leading but quite different MSP CEOs from across the community. Speakers include: Phill Bird - CEO at The PC Support Group, David Brereton - Director at MysonPages
15:20
Closing Remarks/ Networking Drinks
15:35
End of Summit